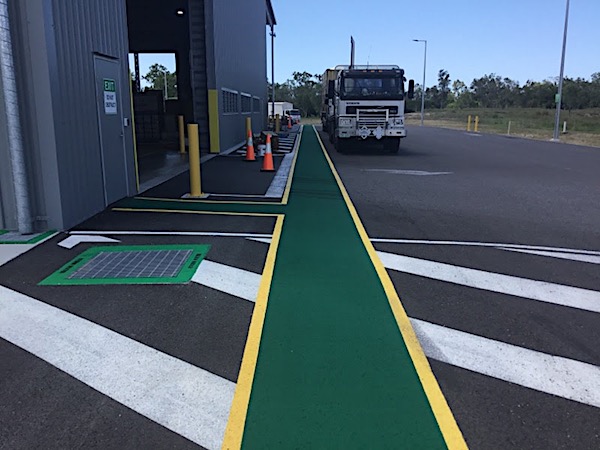 Streets ahead of our industry rivals
Line and surface marking in its varied forms remain a key pillar of the CBS Group Building Group P/L broad skill base and the ACP StreetPrint Division is at the forefront innovation.
ACP StreetPrint is passionate about bringing 21st Century products and techniques to North Queensland.
ACP  forged a partnership with StreetPrint, a patented proprietary technology and application process, using genuine stamped asphalt.
The product unlocks the door to a vast range of products that have the capability to transform anonymous areas in the urban landscape into vibrant streetscapes that attract people.
StreetPrint combines flexibility and strength with creative coating technologies. The method is cost effective, low maintenance and provides a durable surface.
It works brilliantly in parks, gardens, schools, shopping centres and car parks.
And as an added bonus, it reflects heat and has been scientifically measured to be as much as five degrees centigrade cooler than the likes of concrete or roadways.
StreetPrint gives engineers and architects a much broader range of options beyond brick and stone at a cheaper price. An added bonus there is a much wider range of colours and patterns.
Maintenance is an ongoing cost burden for councils and businesses but StreetPrint has the potential to save thousands of dollars over time. Efficient installation costs save money as well.
Unlike pavers, StreetPrint patterns don't move and that equates to significant savings. And once imprinted, the design is smooth to walk on, eliminating trip hazards.
In addition, the asphalt construction is seamless which eliminates the need to control weed growth with toxic chemicals. And if it needs to be repaired, reheating technology and coating systems enable quick and simple repairs.
Our team of skilled trades people have years of experience operating bespoke application equipment and accreditation to guarantee a first-class job.
And don't forget to ask our rep about the vast range of other products including StoneCarpet, StreetBondSR, DuraTherm and Rockpave, to name a few.